Absolute Athletic Therapy we listen to your story and help you find the core causes of your pain and dysfunction. We have an extensive network of allied healthcare professionals from sports medicine physicians to functional medicine practitioners and exercise specialists to complement your care as appropriate.
Book an appointment
Our Athletic Therapists treat our patients one on one, focusing not only on your pain and dysfunction but the core cause of it. We take pride in our ability to provide high quality manual therapies and corrective exercise, combined with education for our patients on how to continue to reach their goals. Ultimately we want our patients to be their best without us.
Book Now
Triage Assessments
We specifically put time in our schedules aside in order to assess any new injuries for athletes and individuals who are apart of our specific partner organizations. For more information about these assessments contact one of our therapists
Contact Us
CPR-BLS Courses
Absolute Athletic Therapy provides BLS courses that train participants to promptly recognize several life threatening emergencies and how to properly and efficiently intervene with a high level of care. Certification through Heart and Stroke is provided once the course has been completed.
BLS Courses
On-Site Medical coverage
At Absolute Athletic Therapy we want to help our community as much as we can. Our practitioners are trained to provide emergency medical services on the sidelines of all types of sports. Find out more about this service by following the link below.
More Info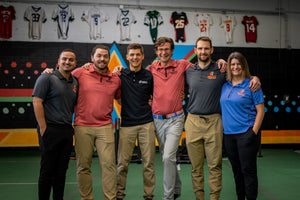 Learn more about our practitioners and services
Our team of highly trained Athletic Therapists are ready to help!
learn more about who you can work with today.
Our Team
Our Clinic
Located Inside Vision Sports Centre
7475 Flint Road SE - Suite 101
Calgary, AB
Mon - Fri, 7am - 10pm
Saturday, 9am - 6pm
Sunday, 9am - 6pm